OK, so a mom from Kissam Elementary is being told that passing STAAR is required to go to 6th grade.  Let's examine how we know this is not true.
First, search for the Academic Performance Report for your school from 2014-2015.  It is located here:
The cover looks like this: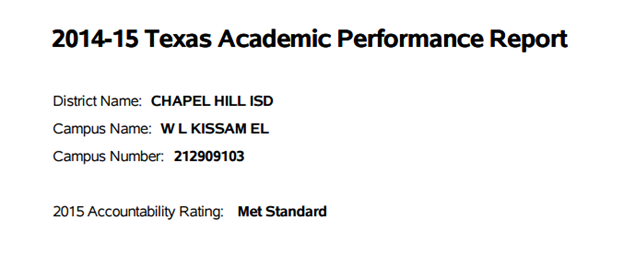 Now let's look at the STAAR passage rate for 5th grade Reading, the only one that counted for SSI last year: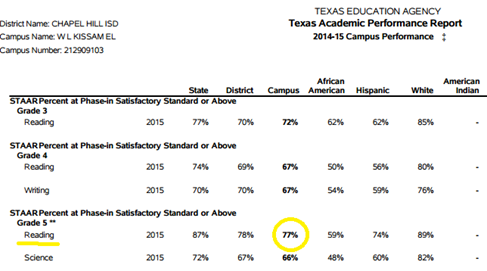 We can see that the failure rate for 5th grade reading last year was 23%.  Now if STAAR passage is required for promotion, then the retention rate in 5th grade would be 23%.  Basically 1 out of ever 4 kids would have to repeat 5th grade.  So let's see what the Academic Performance report says about retention in the 5th grade: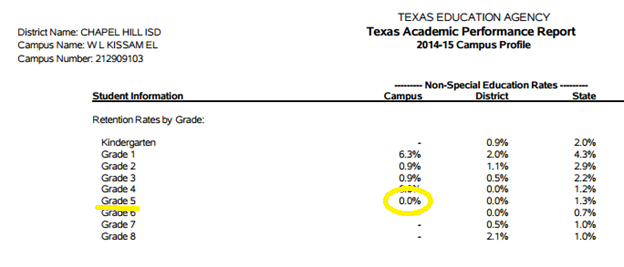 We see that rather than a 23% retention rate, the actual rate was 0%.  (For full disclosure, 15% of special ed kids were retained, but that number gives total retention of about 1.3%, nowhere near the 23% that would be required is STAAR passage was necessary for promotion.
As you can see, every kid who appealed their retention to the GPC was promoted.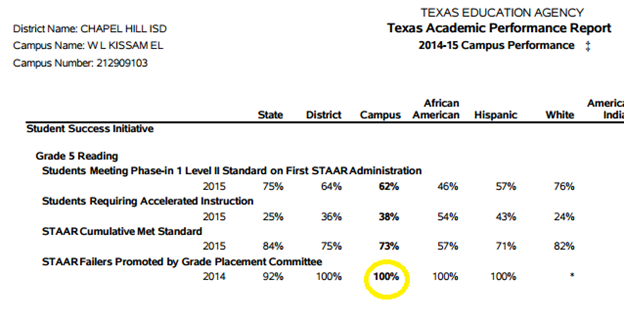 This is one example of many.  The idea that passing STAAR is required for promotion is utter nonsense.  Know the facts and arm yourself!