On June 27, 2014, Kyle and Jennifer Massey did something that the Texas Education Agency and local school districts had spent years denying was possible: they reviewed the STAAR assessment booklet and answer sheet that was administered to their child.  Previous requests by parents had been met with denials that ranged from "that's not possible" to "that's illegal."  However, the Texas Education Code is very clear on this issue: "a parent is entitled to access to a copy of each state assessment instrument administered under Section 39.023 to the parent's child." (Sec. 26.005).  With four volunteers, the law firm of Arnold & Placek set out to see what would happen when parents decided to stop taking no for an answer and demand the legal rights the Texas legislature granted to them.  The answer came today: parents do have a right to review their child's test booklet and answer sheet.  They are not confined to the unhelpful summary data on the STAAR scoring reports.  This right of access is the first step in ending the secrecy and almost mystical air that surrounds the STAAR tests.  Teachers are threatened with criminal charges or loss of their teaching certifications if they dare to even ask their students what problems were difficult for them.  But parents still have a voice.  We are not required to sit back and accept that it is not possible to know the content of the assessment that our state legislators have dictated will control our children's futures.  The Texas Parents' Educational Rights Network encourages all Texas parents to request and review the STAAR assessments administered to their children.  This guide will tell you how to do it.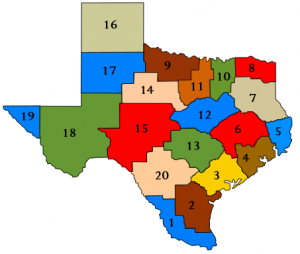 First, understand that you will not be mailed a copy of the materials.  TEA considers these documents to be confidential.  Your inspection will take place in the presence of a TEA employee either in Austin or in one of the 20 Educational Service Centers spread around the state.  Second, the statute does not permit you to photograph or copy the materials.  You are granted a right of access to the assessment instrument.  TEA will strictly enforce this restriction and is likely within their statutory rights to do so.  Third, although TEA will instruct you to make a Public Information Act request, this is improper.  Your rights do not derive from any right of or obligation to the general public.  You have a specific statutory right as the parent of your child to access their assessment.  Fourth, at the present time, the TEA is prohibiting parents from making any notes during their inspection.  Although we believe this restriction is not statutorily authorized, until such time as that matter is resolved with the TEA, your access will be limited to the rules imposed by the TEA.
The request for access to your child's STAAR assessment involves three basic steps:
1.  Making a written request;
2.  Submitting a FERPA release; and
3.  Establishing your right of access.
Once these steps are completed, the Texas Education Agency will acknowledge your right of access and ask you to contact the Student Assessment Division to schedule an appointment.
Step 1 – Making a Written Request
Use this form to request access to your child's STAAR assessments:  STAAR Assessment Access Request Letter
There will be certain attachments to the letter which we will discuss in Steps 2 and 3.  Please note, you should never submit this request using the TEA's online  Public Information Request form.
Step 2 – Completing a FERPA Release
Although you are not making a FERPA request, the TEA has indicated that the FERPA release form is required as a part of the access request.  Download the FERPA Release Form here.
We have pre-filled certain parts of this form, but you still must customize it for your request, including the dates of the assessments requested and the campus where the assessments were administered.  In the initial release authorization, please complete the release designation as shown below:

Step 3 – Establishing the Right of Access
In order to have a right of access, you must be the parent or legal guardian of the child in question.  The TEA requires that you submit certain identifying documentation to establish a right of access.  The following documents should be submitted:
1.  A current drivers license or other government issued ID;
2. The child's birth certificate or court order establishing guardianship; and
3. Any name change documents necessary to establish that you are the parent listed on the birth certificate.  This is very important in the case of remarriage.
Step 4 – Submitting the Request
Once you have these documents, assemble them behind the request letter for mailing or fax, or scan them all into an electronic file for e-mail request.
TEA has very specific delivery requirements for these STAAR access requests.  Although you are not seeking access under the Public Information Act, the TEA has no request tracking process outside of the Open Records process.  For that reason, requests should be submitted by one or more of the following methods:
1.      E-mail: If a copy is sent via confidential e-mail, a user name must be established through TEA's encrypted e-mail service. Review the TEA encrypted e-mail training at http://ritter.tea.state.tx.us/TEA_Encrypted_Email_Instructions.pdf before sending the e-mail message to PIR@tea.state.tx.us asking for a secure site to be set up for transmittal. Scan the request letter, photo identification and birth certificate or court document and create an electronic file that can be attached to the e-mail.
2.      Mail: If a copy is sent via certified U.S. Postal Service, send it to the address below.
Texas Education Agency
Public Information Coordination Office
5th Floor Room 128
1701 North Congress Ave.
Austin, Texas  78701
Please note that you should still address the letter in the manner indicated on the form of the access letter.
3.      Fax: Fax to the number listed below.
Texas Education Agency
Public Information Coordination Office
512-463-9838 (fax)
If a copy is sent via fax, call (512) 463-9734 to notify a staff member of the delivery.
Potential Roadblocks
You should not receive any additional requests for information or delays in the access process.  The only permissible request would be if the TEA is uncertain about your documents establishing your parent or guardian relationship.  If you receive any other notices or requests, consult legal counsel immediately!  In addition, please report these delays to us by e-mail.
The Appointment
Once your right of access is established, you will receive a notice advising you to contact the TEA to schedule your appointment.  Current TEA restrictions prohibit copying, photographing and even note taking during the assessment review.  The right is individual to the parent and you may not bring representatives into the appointment room with you.  The TEA will also ask you to sign an oath of test security.
This notice appears to be unsworn and probably not enforceable as an oath.  It also misstates the statute on test disclosure.  We believe both that the adoption of this form is not authorized by statute or TEA rule and that it is improper for the TEA to condition access on the signing of this agreement, but you will likely be denied access unless you sign.  If you are interested in testing this requirement, contact Arnold & Placek to see if they are willing to assist you.
This process is relatively straightforward and so far we have not had any reports of unreasonable delays or denials by the TEA.  This guide is intended to permit parents to successfully make their own requests.  If you would like to retain legal representation to make your request, you can contact Arnold & Placek.