Fox 26 reporter Andrea Watkins has made real headway in getting school districts on the record about a parent's right to Opt Out.  In her initial report, Katy ISD Director of Assessment, Alison Matney (who has made inaccurate posts on this website) acknowledged that while there is no process to opt out, parents can just keep their kids home.  Today, however, Watkins' latest report contained a real bombshell.  In response to questions about the Houston AFT's endorsement of the Opt Out movement, the Houston ISD issued a statement acknowledging that while state assessments are mandatory, parents can remove their children from objectionable instruction under Tex. Ed. Code sec. 26.010.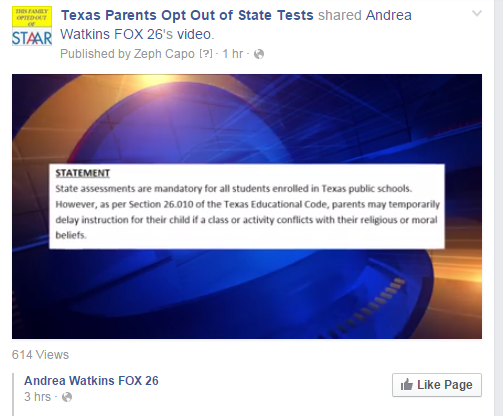 Earlier this year, we reported on the admission of the state's top school law firm that parents could "technically" opt out.  Houston ISD's acknowledgement of parental rights to refuse assessment under sec. 26.010 marks, to our knowledge, the first explicit recognition of what TPERN has long urged is the plain meaning of the statute.  TPERN salutes Andrea Watkins for her hard hitting investigation and Houston ISD for their recognition of parental rights in the face of strong pressure from the Texas Education Agency to intimidate and coerce parents into assessment.
Update:  This is the official Houston ISD Opt Out form.  It is legal, people!  Demand your local schools respect your rights!